Whew, did you to take a deep breath after reading that title? First rule of SEO (search engine optimization) best practices: concise titles.
#Fail.
Whatever. Can we get an amen? I mean, not all of us have kids, so maybe we can also make the title "Tips That (Might Can) Work if You (Maybe) Want to Avoid Eating All of Your Kid's Halloween Candy OR the Entire Bowl Before Any Trick-or-Treaters Ring the Doorbell". I think that's a great working title.
But I add the parenthetical "might can" phrase because some of these are not from the experts; they're from yours truly, the Garage Barre blogger. I also added the "maybe" because maaaaybe you don't want to hold back. As the kids said five years ago, "YOLO."
And yours truly is not here to judge that. I mean, after all, all of us are basically Bow Wow Wow on Halloween.
SO, if you want those Reese's to go home or in the trash–not in your belly–these are some tips that have worked from me (and a few from people you should probably actually listen to).
Make a sweet treat that is healthy
Remember that time we posted this bomb black bean brownie recipe that had our stamp of approval? Maybe you'll be a little less tempted to tear back wrapper whichever piece of candy you get your hands on first if you have a sweet healthy treat on deck. Apples and peanut butter are also good to have on hand, or to just think about being on deck.
Paint your nails
If your nails are wet, that means you can't eat tear into a candy bar. GENIUS.
Don't buy the candy until you are about to hand it out This is one of those from the experts, and I have to admit, that is quite the novel concept. Oooooh so I don't have to get the Twix/Snickers/Milky Way/Three Musketeers variety pack at the beginning of September? If you live in a neighborhood with maybe two kids who trick-or-treat, you're done. JK, get one pack of candy and and give it all to the first trick-or-treater. If another one rings the doorbell, don't answer. (That last tidbit is not from said expert)
Don't get your favorite candy
Also from the experts, and also a novel concept. I don't know about anyone else, but my eye goes straight to the Reese's or peanut butter M&Ms on the candy aisle and nothing else. It's kind of like I'm floating on a cloud towards it, and there's nothing or nobody else around me. Or like when Wayne sees Cassandra for the first time in Wayne's World.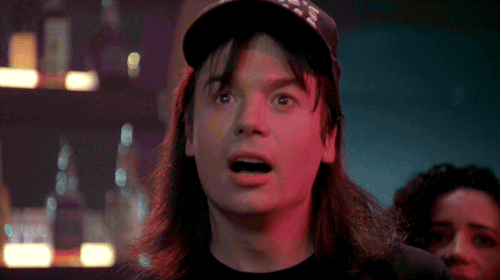 via BuzzFeed
So, Snickers it is (don't hate me).
Tell yourself you don't eat candy
Okay, I read this one a while back, and it kinda works. In all seriousness, telling yourself you won't eat candy makes you want it even more— you know, it's that whole you-always-want-what-you-can't have complex. But, if you tell yourself it's something you don't even consider ingesting, your mind will go to something else. Maybe those aforementioned black bean brownies?
Watch a gross scary movie
Blood, guts, and other gross stuff should turn off any temptation to eat anything. If that doesn't work, good luck.
Use your less dominant hand?
Apparently, using your less dominant hand makes you eat 30% less, according to Allure. Now, the trick is to not hit my teeth or smudge it on the corner of my lip. Not speaking from experience or anything.
Source:
Allure